THE INTERNATIONAL SEMINAR ON TECHNOLOGY GOVERNANCE ON EDUCATION AND LEARNING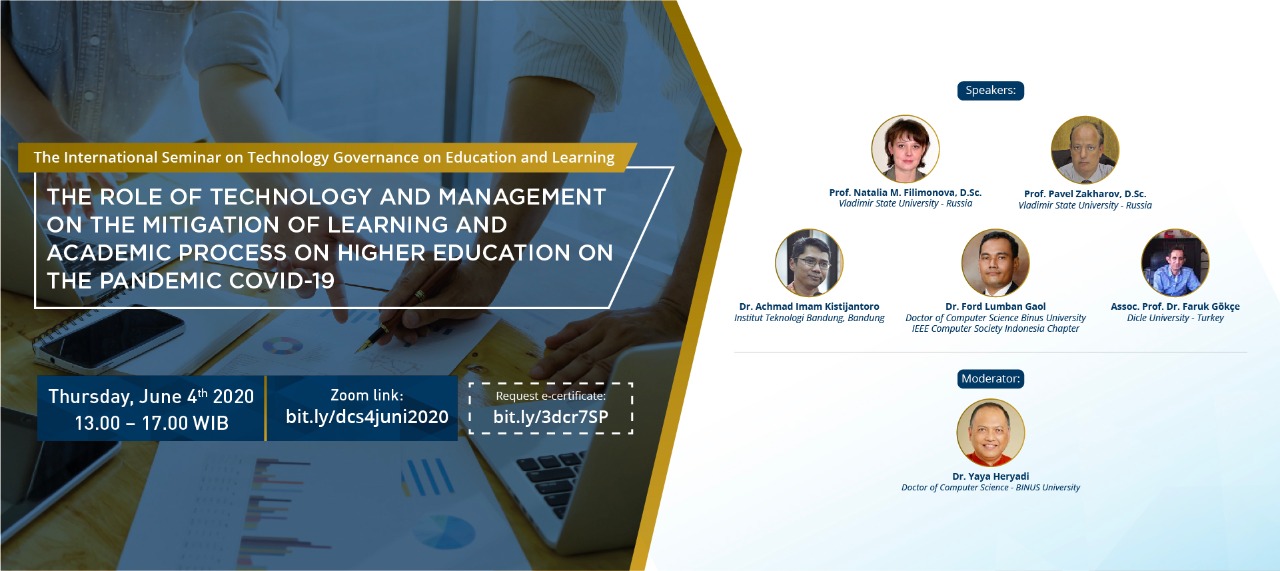 The role of Technology and Management  on the Mitigation of Learning and Academic  Process on Higher Education  on  the Pandemic Covid 19″
Hosted by :
Vladimir State University – Russia
Doctor of Computer Science – Binus University
Ducel University – Turkey
IEEE Computer Society Indonesia Chapter
Zoom link: https://binus.zoom.us/j/93795940557
Link Request e-certificate: https://bit.ly/3dcr7SP
Speakers:
Prof. Natalia M. Filimonova, D.Sc (Vladimir State university – Russia)
Prof Pavel Zakharov, D.Sc (Vladimir State university – Russia)
Dr. Achmad Imam Kistijantoro (Institut Teknologi Bandung, Bandung)
Dr. Ford Lumban Gaol (Doctor of Computer Science Binus University –
IEEE Computer Society Indonesia chapter)
Moderator:  Dr.  Ir. Yaya Heryadi, M.Sc
Synopsis: Information technology (IT) has become essential in supporting the growth and sustainability of all types of organizations. Higher education institutions are a special type of organization where technological infrastructure consists of a variety of applications, different platforms, academic systems, cloud applications, and heterogeneous technologies. All these technologies for supporting the research, teaching, and administrative processes require an effective IT governance framework. The framework of IT governance is composed of structures, processes, and relational mechanisms. Each one of these mechanisms has a function and when implemented, should affect the organization positively. The process of identifying the right mechanisms for a specific context is a complex endeavor. This seminar looks at the IT governance mechanism that higher education institutions have implemented.