NETWORKING DINNER AND INFO SESSION Doctor of Computer Science (DCS) Program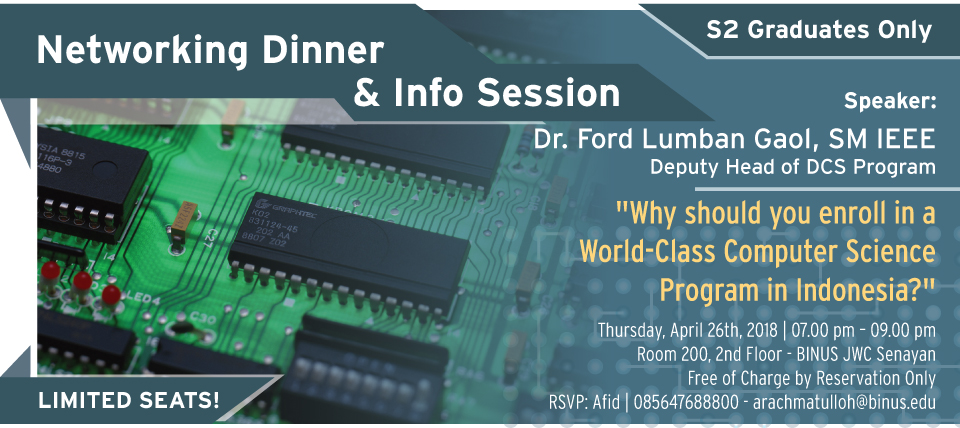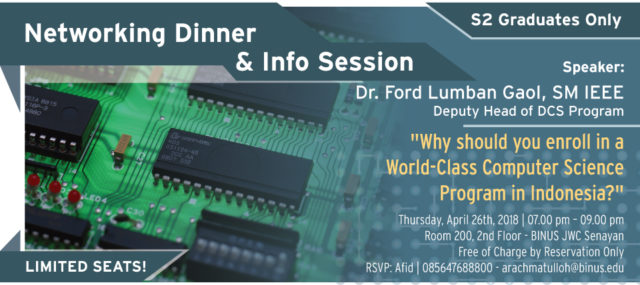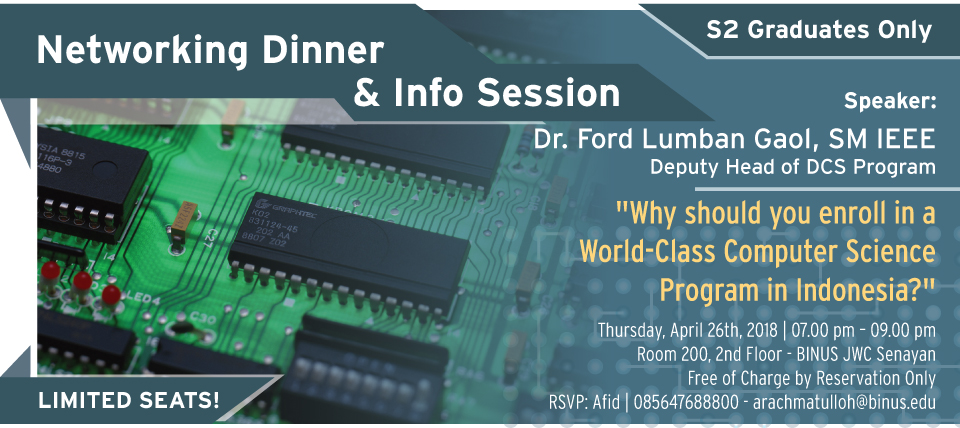 We cordially invite you to:
Networking Dinner and Info Session 
Which will be held on:
---
April 26th, 2018
(Thursday)
07.00 p.m – 09.00 p.m
At Room 200
2nd Floor, BINUS UNIVERSITY JWC Campus
Jl. Hang Lekir I No. 6, Senayan
Jakarta Pusat
---
Registration:
Free of Charge by Reservation Only
For S2 graduates
(A limited number of reservations are available)
---
Speaker:
Dr. Ford Lumban Gaol, SM IEEE – Deputy Head of DCS Program

Dr.Ford Lumban Gaol is currently Associate Professor Informatics Engineering and Information System, Bina Nusantara University. He is the Vice Chair of Bina Nusantara University Doctorate Program in Computer Science and Research Interest Group Leader "Advance System in Computational Intelligence & Knowledge Engineering". Dr. Ford is the Vice Chair of IEEE Indonesia section for International and Professional Activities.
Dr. Ford is the ACM Indonesia past Chapter Chair. Dr. Ford is the IIAI Indonesia Chapter Chair. Dr. Ford already involved with some project relate with Technology Alignment in some of multinational companies as well as some government projects. For International highlight, Dr. Ford is the recipient of Visiting Professor in Kazan Federal University, Russia 2014 and 2015, Visiting Professor in Vladimir State University, Russia 2016, Invited Scholar in Aligarh Muslim University, keynote speaker in ICCNT 2014 and Invited Scholar in ICTP Trieste Italy. Dr. Ford is member of Indonesian Mathematical Society (IndoMS), The Association for Computing Machinery (ACM) Professional, The International Association of Engineers (IAENG), and the Indonesia Society for Bioinformatics. He holds the B.Sc. in Mathematics, Master of Computer Science. and the Doctor in Computer Science from the University of Indonesia, Indonesia in 1997, 2001 and 2009, respectively.
---
Topic:
Why should you enroll in a World-Class Computer Science Program in Indonesia ?

---
During this event participants will:

Expand professional network;
Have the opportunity to ask questions about the topics;
Be provided with an overview of the Doctor of Computer Science Program that includes specific program goals, objectives, and methodologies
---
We are hoping you will take some time to come to the BINUS UNIVERSITY Doctor of Computer Science (DCS) Information Session on April 26th, 2018. Please register if you are planning to attend by emailing us. Please click: